Used Car Financing: How Does Financing a Used Car Work?
Purchasing a vehicle is an exciting experience, especially if it's your first time shopping for your own car. However, the financing element of the exchange may not be on the forefront of your mind.
Instead of shopping first and financing last, consider getting pre-approved for your car purchase so you know what you can qualify for and afford.
Following this tip and other helpful tips for used car financing can help smooth out the process.
How Does Financing a Used Car Work?
Buying a pre-owned car rather than a brand-new model can save you a lot of money, but the financing process is slightly different. You'll have to apply for financing, similar to how you would finance a new vehicle purchase, but your lender may require you to meet certain criteria or follow specific rules regarding the sale. It's helpful to gain as much knowledge as possible about the process so you come into the transaction feeling informed and prepared.
One of the key differences is the required down payment, as leasing or even buying a new car may not require you to put a percentage of the cost down. It's also helpful to understand your credit history and score, where to look for financing options, and how to apply for a loan.
What Do I Need to Apply for Financing?
Before you apply for a used car loan, start by performing some research on your own. Look at your credit report and current credit score as reported by the three main credit bureaus. You can pull your credit report once a year for free at annualcreditreport.com, and this report will include the details reported by TransUnion, Experian, and Equifax.
By checking your credit history and score, you can get a better understanding of where you stand and what interest rate and loan terms for which you may qualify. While an auto lender typically won't require a copy of your credit report, as they can pull that on their own, it is always helpful to make sure that the numbers and history align.
After you review your credit history, the next step is researching lenders. Some offer lower interest rates but require higher down payments, while others may offer you a low cost at the time of purchase but gouge you in monthly interest on your payment. Review all the terms of a loan before you make a decision to sign, and compare offers to determine which is right for you and your financial situation.
You may also want to consider a local lender rather than a larger organization that may not treat you with the same level of service. Banks and credit unions do much more than auto financing, so your loan may not be their top priority. If you're in the Youngstown, Ohio, area, you can count on #1 Cochran Youngsrown to handle your financing needs. We work with many auto shoppers to help them qualify for competitive financing terms and find high-quality vehicles.
How Much of a Down Payment Should I Make?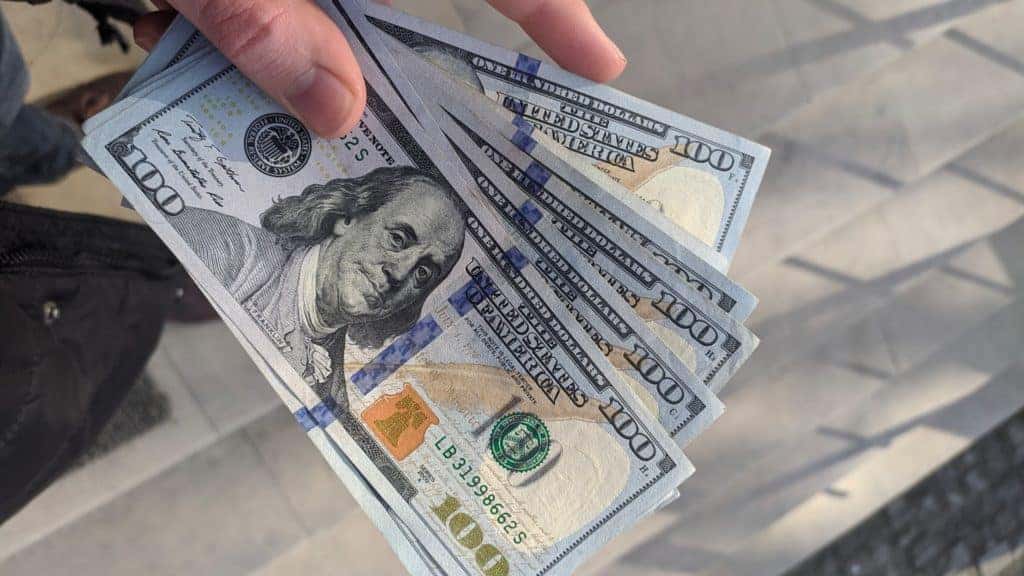 Image via Unsplash by carnations
When you finance a used car, the lender will usually require you to pay a percentage of the total cost as a down payment. This must be paid in cash, although if you're trading in your current vehicle, the value of the trade can be put toward the down payment. The reason for requiring a down payment is twofold — first, showing that you are committed to the financial aspect of car ownership, and second, receiving some compensation in exchange for the loan.
Although the required amount depends on your lender, most financial experts recommend aiming to put between 10-20% of the value of the pre-owned vehicle as a down payment. By paying at least 10% of the value, you can reduce some of what you'll have to pay in interest over the life of the loan. If you have a lower credit score, your lender may require a higher down payment.
Making a down payment toward your pre-owned vehicle purchase also benefits you because it lowers your monthly payment and reduces how much interest you'll pay over the term of the loan. Having a significant amount of money to put down can also help you qualify for a loan more easily, and you can offset some of the cost of depreciation, which means you are less likely to be upside down on the loan as the value of the car goes down each year.
What Credit Score Is Necessary for Vehicle Financing?
Most lenders that offer automotive financing will categorize applicants into three main credit categories — excellent, good, and fair. The actual number that puts you into a certain category can vary, depending on the lender and their criteria, but in most cases, you'll need a score of at least 600. At the end of June 2020, the average credit score for a used car loan was 657. While it's not impossible to qualify with a lower score, it is more challenging, and you'll usually have a higher interest rate and higher required down payment.
If you're struggling with a low credit score, you may want to take steps to repair your credit before applying for a loan. Making your payments on time, paying down any outstanding debt, and bring past-due accounts up to date will all help your score go up. If you have substantial debt, consider consolidating all the outstanding loans and paying one monthly payment toward the sum. However, avoid closing any accounts after the balances are paid off, as this causes the percentage of utilized credit to increase, which doesn't help your score.
At #1 Cochran, we offer competitive financing options to automotive buyers in and around Youngstown, Ohio. We offer a quick and easy way to apply online, helping you to get the preapproval you need to make an informed decision. Our location also carries an extensive selection of high-quality pre-owned vehicles, so we can help you get behind the wheel of your dream car, truck, or SUV.
Contact us, fill out our online form below, or visit our location to get started.