Lease Pull Ahead Check at Cochran Cars in Youngstown, Ohio
Not only does GM build superior vehicles, but it also takes great care of its customers. The General Motors lease pull ahead program is one such example. If you are a current GM lessee, you may qualify for the opportunity to lease a different vehicle before your current lease expires.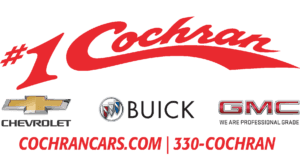 Pull Ahead Check
Interested in seeing if you're eligible for a pull ahead? We've got you covered. Fill out this quick form below and we'll be in touch.
What comes next? After you let us know you're interested, we'll be in touch to confirm the details of your vehicle and learn more about what you want your next vehicle to be.
Why You Should Lease Pull Ahead
A vehicle lease duration is typically about two to three years. A lot can happen in your life since you signed your lease. If your financial situation has changed and your budget no longer accommodates your monthly payment, a lease pull ahead may be for you. If you've added a family member or two and need a larger vehicle, a lease pull ahead may also be the right move for you.
Vehicle leases also require you to remain within a certain mileage limit. This can be challenging to maintain, given how much fun it is to drive a GM vehicle. If you've exceeded your mileage limit or are quite close to your limit, you may consider taking advantage of the pull ahead program instead of paying the per-mile overage fee.
Finally, if you just want a new vehicle and you can not wait for your lease to end, a lease pull ahead can get you into that new GM vehicle you've been eyeing.
When You Can Pull Ahead
Depending on how the particular GM early lease pull ahead program is structured at the time, you will need to be within a specific number of remaining payments. There is often a monetary limit on the total amount of remaining payments as well. While the lease pull ahead program may knock off only a few month's payments from your present lease, that handful of months might make a significant difference if you need to get into a new lease quickly.
How Does a Lease Pull Ahead Work?

Possible Fee Waivers
The lease pull ahead can save you money. Instead of terminating your lease outright and incurring early termination fees, you can end your current lease early with little to no additional fees. In this way, you are truly "pulling ahead" on your lease. Keep in mind that you may still be responsible for excess wear fees and mileage overage fees unless these are waived as part of the terms of the pull ahead program.
GM Specials and Incentives
When it comes time to enter into the new lease, GM may be offering great lease specials, some of which are targeted toward current GM lessees. The great news is that you can take advantage of these incentives, thus potentially saving you even more money on your new lease.
Purchasing Versus Entering a New Lease
Let's say you plan to keep your current vehicle instead of trading it in at the end of the lease term. Depending on current pull ahead offers, you might still be able to take advantage of the program's cash incentives and remain in the car you're currently leasing.
Does the GM lease pull ahead program sound right for you? Check with us to see if you qualify for this great program and what kind of incentives are available to you.