2024 GMC Hummer EV SUV – Electric Hummer Price, Interior, Range & More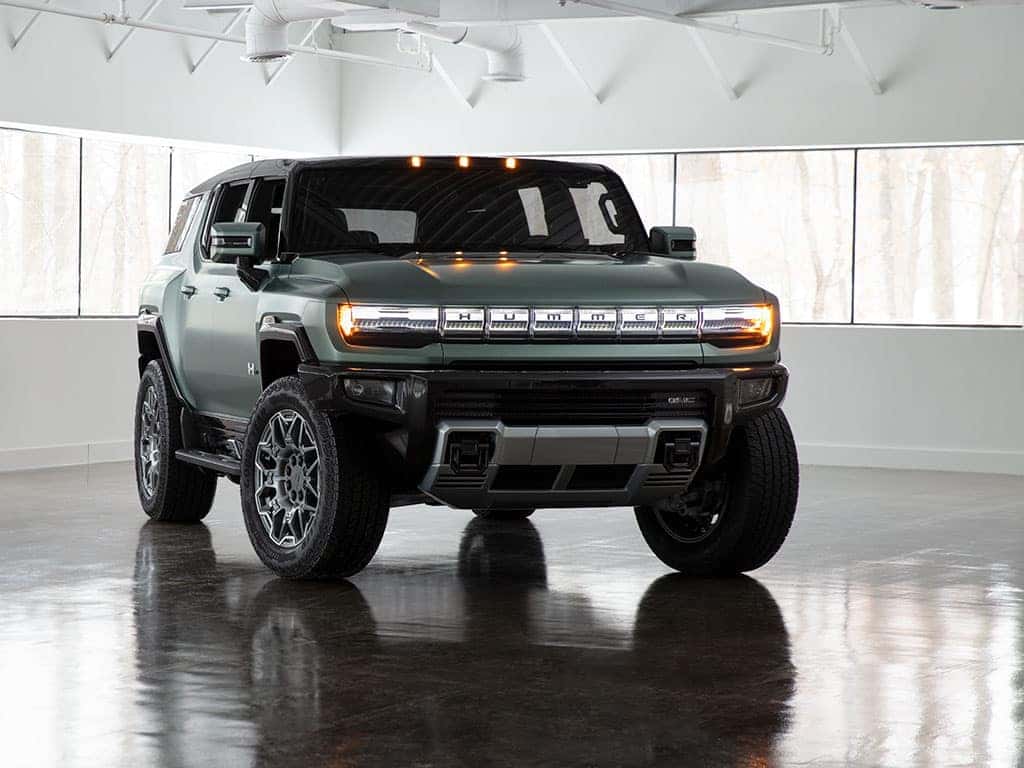 2024 GMC Hummer EV SUV
---
The all-new 2024 GMC Hummer EV SUV is the complete package. The all-electric Hummer provides drivers with unparalleled off-road abilities, an environmentally friendly engine, and top-shelf amenities. Here's the scoop on the 2024 GMC Hummer EV SUV.
Exterior Features
---
The 2024 GMC Hummer EV SUV will be available in four trim packages, including the EV2, EV2X, EV3X, and Edition 1. Moonshot Green exterior paint is standard on all trims. Specially designed 35-inch tires provide unsurpassed traction and ground clearance. The power swing gate holds a full-size spare tire.
The unique Infinity Roof opens the Hummer EV's cabin to the sky. Remove the transparent roof panels, front I-Bar, and lower the rear drop glass to provide the ultimate open-air driving experience. Available roof cross rails are compatible with the Infinity roof, so you never have to choose between beauty and function.
The Hummer's HD surround vision system uses multiple exterior cameras to create an overhead view of your surroundings. You can also upgrade to the available Ultravision camera system. Ultravision provides up to 17 camera views, including waterproof underbody cameras that provide front-and rear-facing views of the terrain beneath your SUV. Every Ultravision camera has a washer function and replaceable lens protectors.
Several optional exterior features are also available on the 2024 GMC Hummer EV. For extra light when traveling off-road at night, add on the 50-inch front-facing light bar. You can also mount off-road pod lights on the front pillars. The pod lights provide extra light when driving off-road or at your campsite. You can also use the mounting equipment for the off-road pod lights to attach small video cameras to your Hummer. Front and rear D-Ring recovery hooks are also available, each with a load capacity of 15,000 pounds.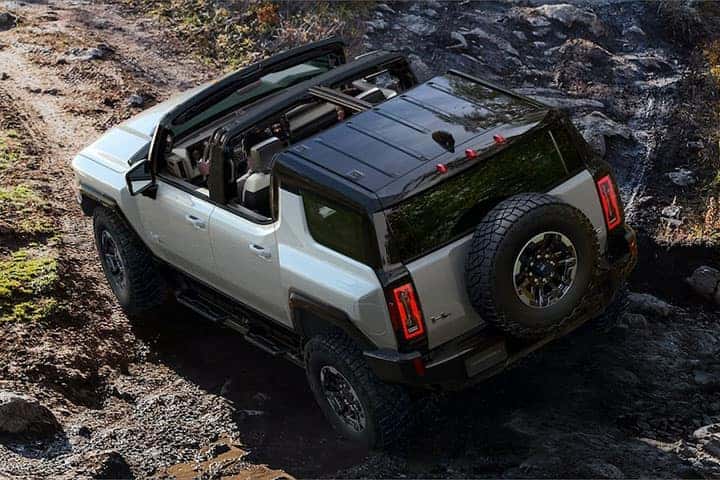 Hummer EV SUV Specs
Like its gasoline predecessor, the Hummer EV SUV provides unsurpassed off-road performance. Hummer's revolutionary CrabWalk feature is handy when driving through rough trails and tight spots. The CrabWalk system turns the rear wheels by ten degrees, allowing you to drive diagonally at low speeds. Extract Mode uses the adjustable air suspension to raise the Hummer an additional six inches, perfect for climbing over large boulders or fording waterways. The crabwalk feature can also be found on the 2023 Hummer Pickup counterpart.
The independent front and rear suspensions provide supreme comfort on highways and unparalleled off-road handling. Steel shields and plates protect the battery pack and differential. Full body armor, rock sliders, and skid plates are available for those that travel in extremely challenging off-road conditions. Other available features include front e-lockers, virtual rear lockers, and heavy duty-ball-spline half shafts.
GMC Hummer EV SUV Interior
---
The Hummer EV SUV cabin provides comfortable seating for five adults. The Hummer has a rugged dashboard, horizontal and vertical air vents, a rotary drive selector knob, and a large T-shaped shifter. Stitched leather and tech bronze accents create an upscale feel.
Two leather upholstery packages are available for the Hummer. Lunar Shadow is a combination of black and taupe leather. Lunar Horizon features black and light gray leather. Both packages include bronze accents and all-weather flooring.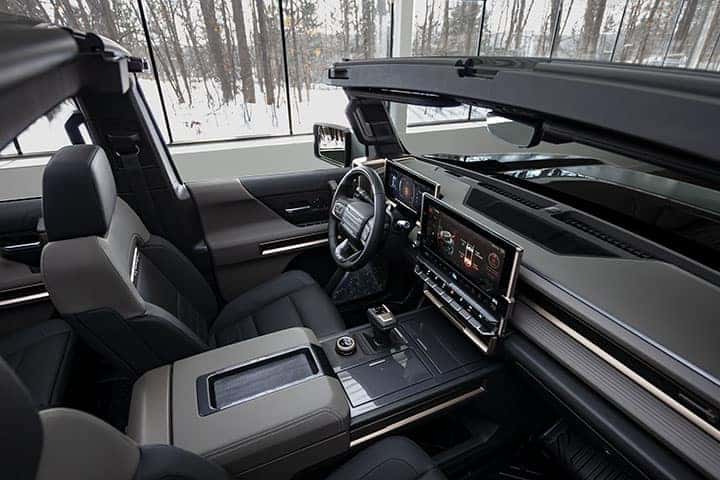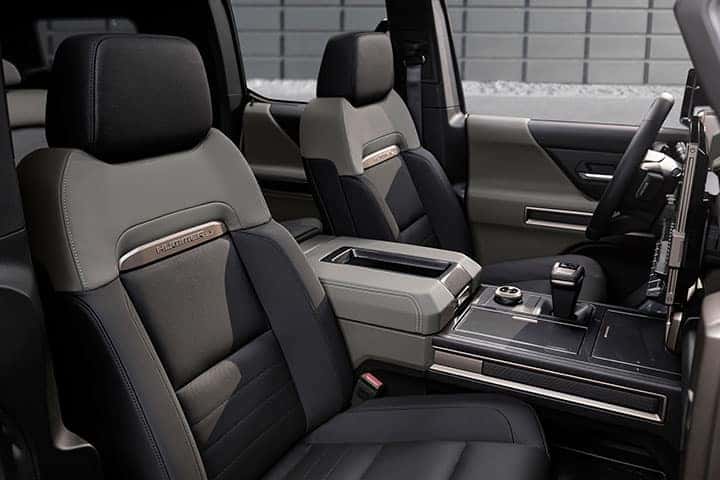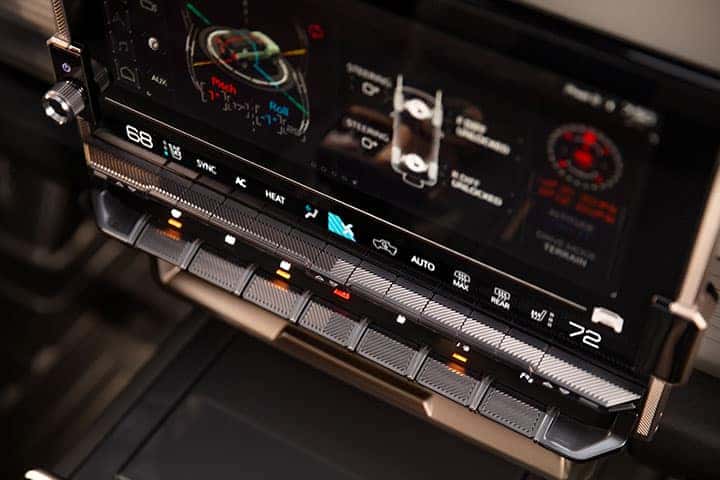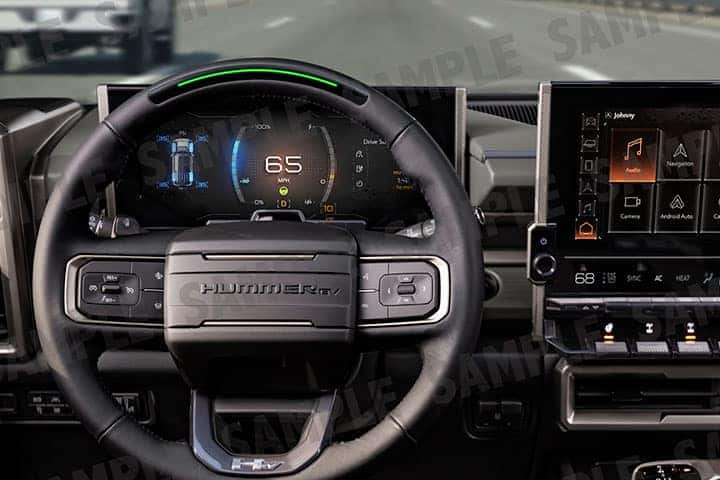 The Hummer EV SUV cabin includes advanced infotainment features. The 12.3-inch digital color Driver Information Center provides gauge and engine information. The center-mounted 13.4-inch color touch screen provides easy access to apps and navigation. Standard features include Apple CarPlay, Android Auto, a 4G LTE Wi-Fi hotspot, Bluetooth audio streaming, voice command, and hands-free phone. Available features include a 14-speaker premium Bose audio system, onboard navigation, wireless charging, and a rear-seat infotainment system. The optional 6.0 kW Power Station generator can charge electrical equipment or other electric vehicles.
The Hummer SUV provides ample cargo room. The spacious rear trunk includes cargo tie-downs, a 110-volt power outlet, and an easy-clean rubber floor. Lift the cargo floor to reveal an additional concealed cargo area. With the second-row bench folded flat, the Hummer EV SUV provides 82 cubic feet of cargo space. Hummer included a second storage area on the driver's-side rear quarter panel. The Power eTRunk under-hood storage provides can carry the removable sky panels or gear.
Hummer EV Horsepower
---
The 2024 Hummer EV SUV trims have two or three electric motors, depending on the model. The EV2 and EV2X trims have a dual-motor system that produces 625 horsepower and 7,400 pound-feet of torque at the wheels. The EV3X and Edition 1 have a three-motor system that produces 830 horsepower and a whopping 11,500 pound-feet of torque at the wheels. No matter which model you choose, all have a single motor in the front with the remaining one or two in the rear.
The Hummer EV SUV has a first-of-its-kind Ultrium battery. The 200 kWh Ultrium provides a driving range of over 300 miles. Owners can charge at home via a standard 120-Volt, three-prong outlet or have a Level 2 charging station installed at home for faster charging. Owners can also charge the Hummer EV battery at any of 70,000 public charging stations in the United States.
The EV SUV also has Regen On Demand and One-Pedal Driving. Regen On Demand allows drivers to pull the Hummer EV to a stop by pulling on a steering wheel paddle rather than using the brake pedal. With One-Pedal Driving, drivers can start, accelerate, decelerate, and stop the Hummer EV SUV using only the accelerator pedal. Both systems are customizable to suit driver preferences.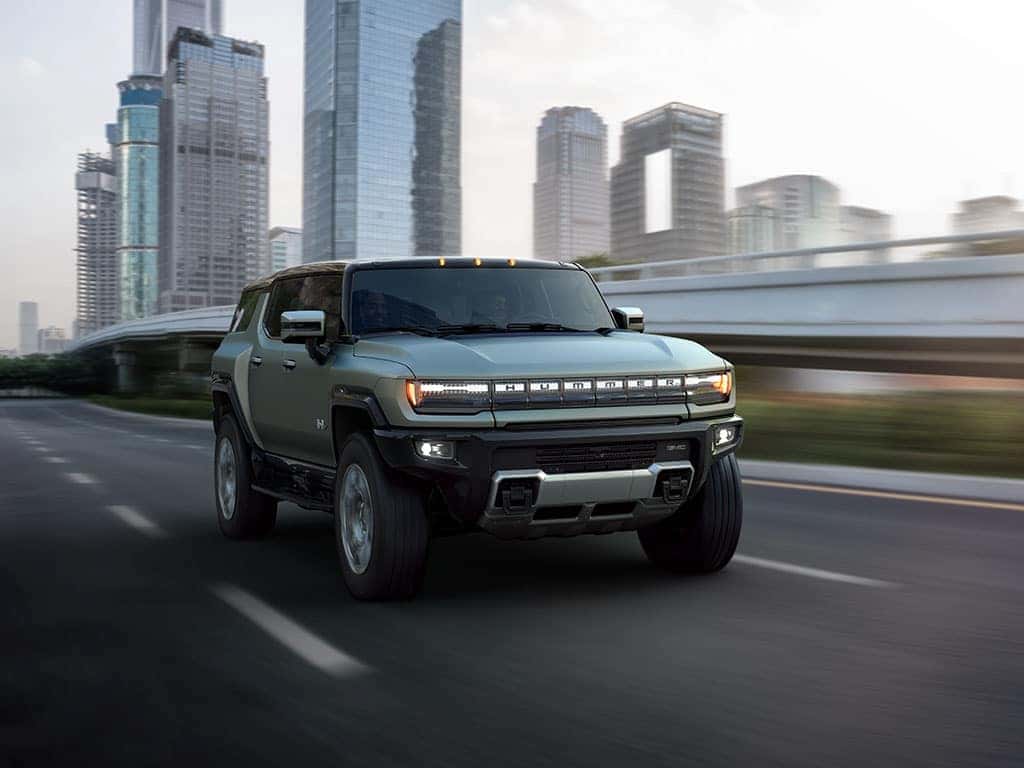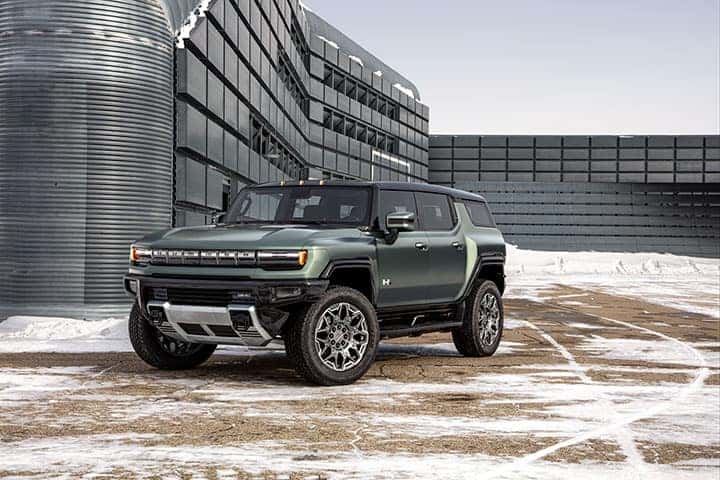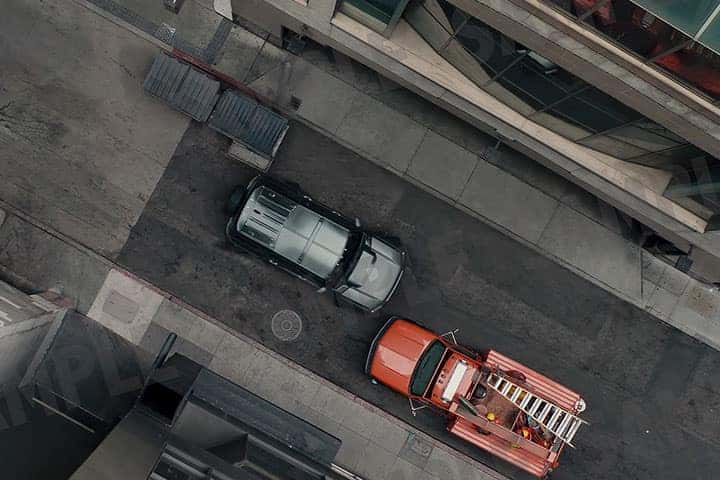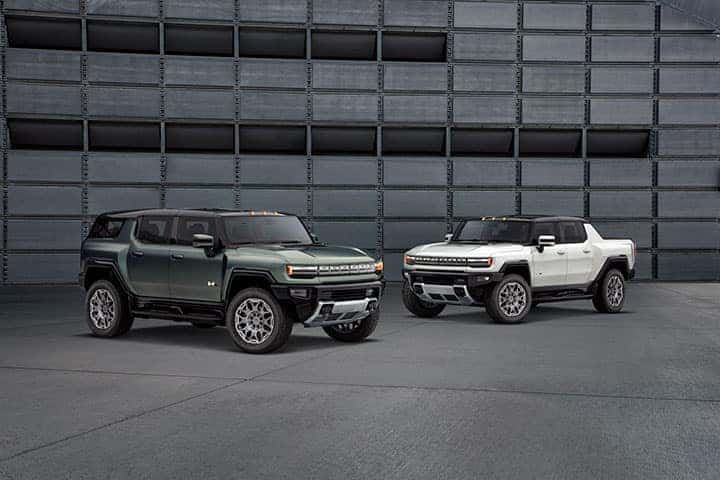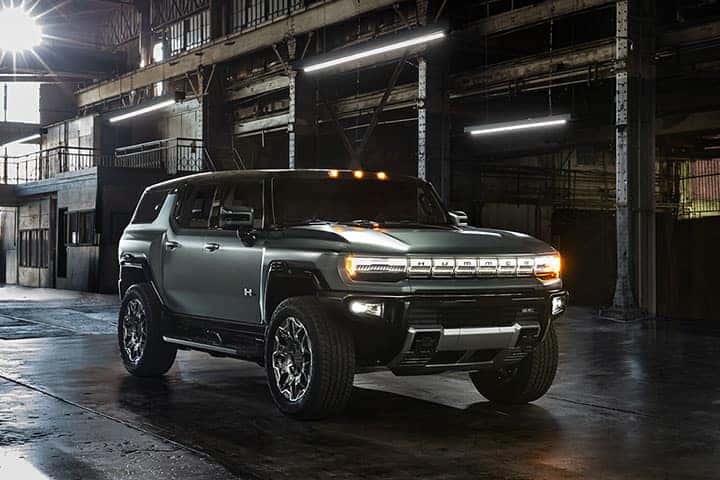 Safety Features
---
The 2024 GMC Hummer EV SUV will include a plethora of standard driver-assist safety features. Standard features include forward-collision warning, automatic emergency braking, lane-departure warning, lane-keeping assist, and adaptive cruise control. The Hummer EV SUV will also have an enhanced Super Cruise system. Super Cruise allows for hands-free driving and lane changing on over 200,0000 miles of compatible highways.
Extreme Off-Road Package
Owners that travel through extreme off-road terrain can add on Hummer's Extreme Off-Road Package. This package adds 18-inch wheels, 35-inch all-terrain tires, extra skid plates, improved axles with heavy-duty parts, and a locking front differential. Special cameras mounted low on the chassis provide extra visibility when driving through difficult terrain.