2023 GMC Hummer EV Pickup – Interior, Exterior, Features & Specs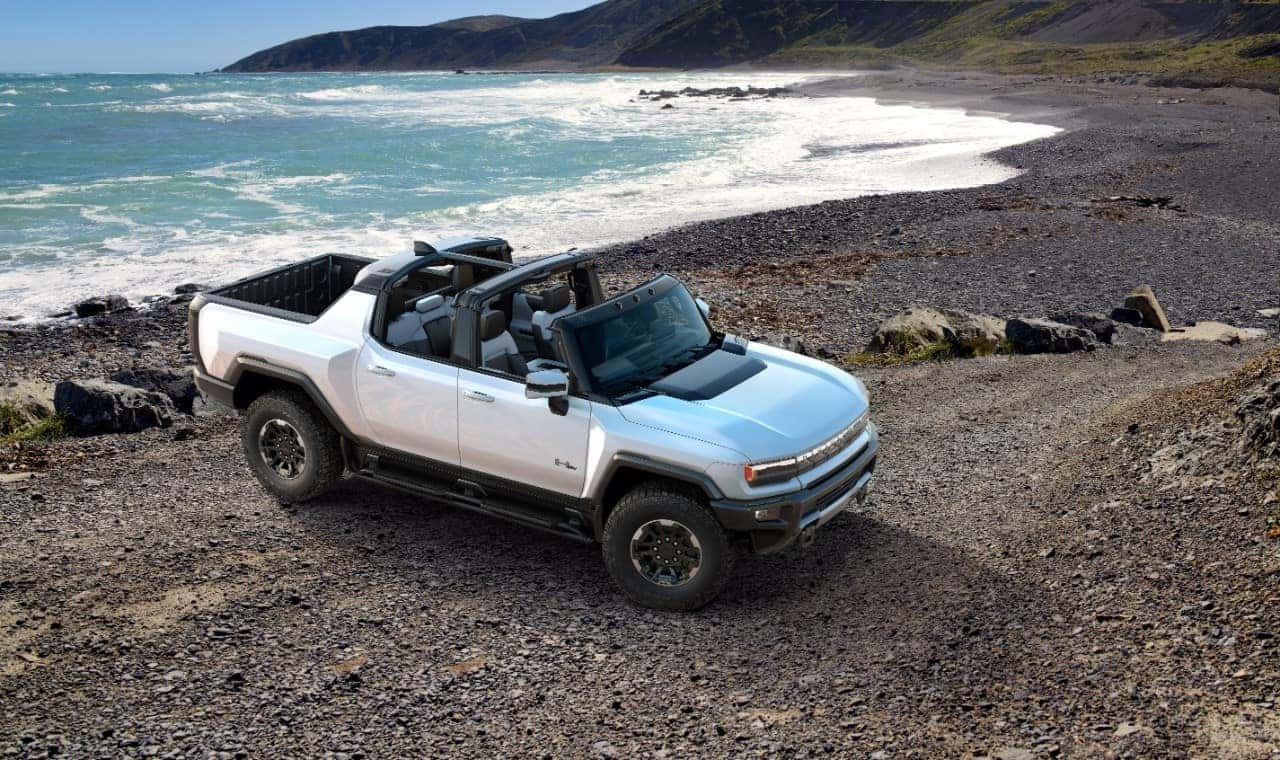 The 2023 GMC Hummer EV Pickup
---
GMC's re-envisioned electric Hummer breaks the boundaries of battery-powered vehicles. With extreme off-road capabilities, driver-assist technology, and plenty of horsepower, the new GMC Hummer Electric Vehicle Pickup defies limits.
Along with its 2024 SUV counterpart, the GMC Hummer EV Pickup defies electric vehicle boundaries with loads of horsepower, off-road handling, and extensive range. Being eco-friendly never looked so rugged.
2023 GMC Hummer EV Pickup Specs
---
GMC's 2023 Hummer EV Pickup offers standard front and rear independent suspension for off-road handling and comfortable driving on highways. The vehicle also comes with a dual-level charge cord set capable of recharging your Hummer on a Level 1 (120v) or Level 2 (240v) outlet at home. The Level 2 system may require professional installation, though.
With over 200 upgrades and accessory options in the new Hummer EV, you can customize nearly everything for your ride. Available driving feature highlights include heavy-duty ball-spine half-shafts for agility and less friction during off-road steering, front e-lockers and virtual rear lockers for traction control, and 4-wheel steering for enhanced maneuverability. Optional full underbody armor with steel plates and shields protects the battery and differential from extreme off-road conditions.
The Hummer EV Pickup's available Adaptive Air Suspension adjusts ride height automatically with a vehicle lowering function that brings you closer to the road, lowering your center of gravity for enhanced steering. Optional continuous damping adaptive ride control enhances ride dynamics on both off-road and paved surfaces.
Safety Features
The 2023 Hummer EV Pickup comes standard with plenty of safety features to give you peace of mind on the road. All new Hummer EV Pickups include automatic emergency braking, adaptive cruise control, forward collision warning, lane-departure warning, and lane-keeping assist. Available Ultra Vision also gives you overhead and proximity views of the vehicle by using up to 18 cameras and HD surround vision.
New vehicles also come with a three-year subscription to the Super Cruise system through GMC Connective Services. This driver-assist tech allows for hands-free driving and automatic lane changing on compatible roads. When enabled, Super Cruise controls acceleration and braking while maintaining a safe following distance that you set prior to activating the feature. Perfect for longer commutes, Super Cruise uses real-time cameras, LiDAR, GPS, and sensors through the adaptive cruise control system.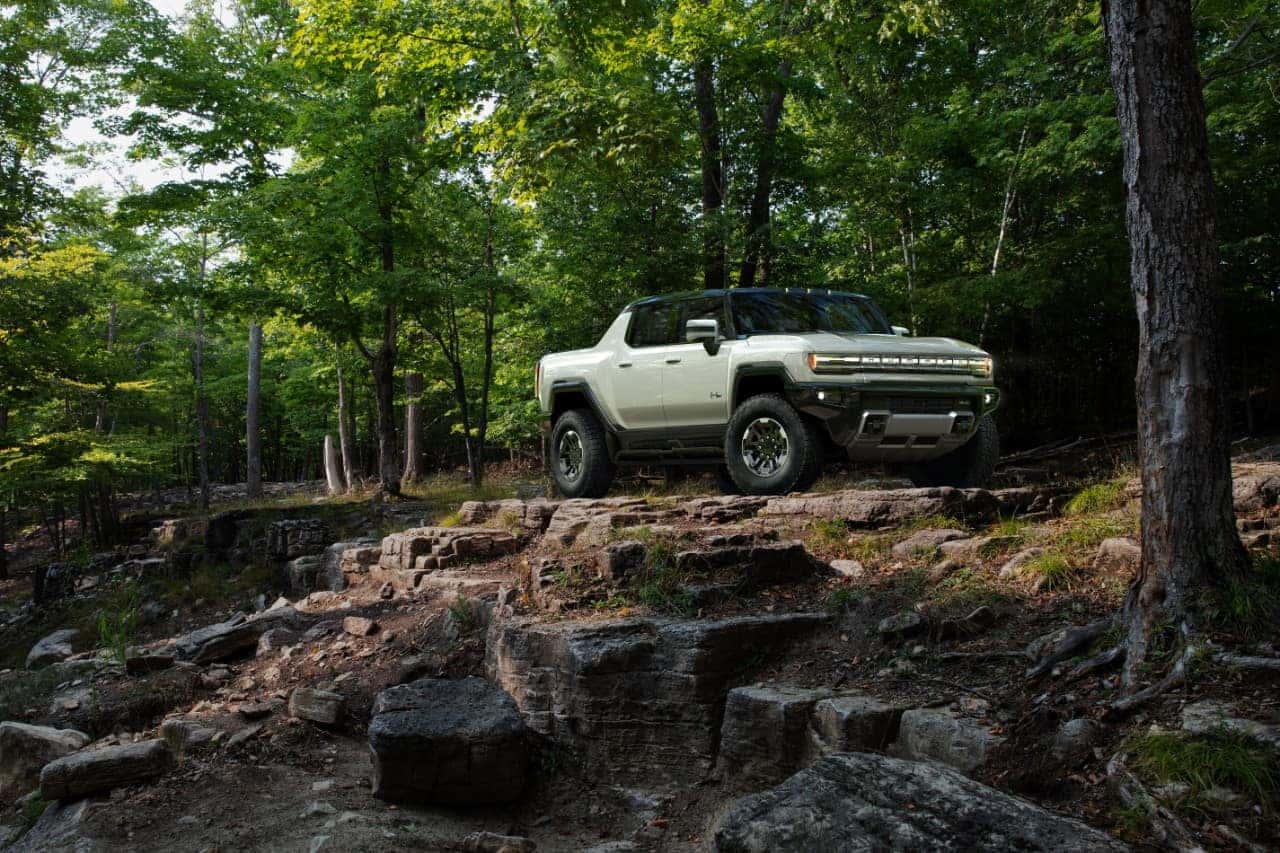 Hummer EV Pickup Extract Mode and Crab Walk
Extract Mode makes GMC's Hummer EV Pickup the ultimate off-road capable electric vehicle. Deftly cross low-lying riverbeds or patches of rocky terrain as Extract Mode raises the vehicle by up to 6 inches.
Extract Mode works in tandem with the available Adaptive Air Ride Suspension mode, giving you clearance to adventure through environments that are inaccessible to most vehicles.
Off-roading in tight spaces gets easier with the Hummer EV Pickup's Crab Walk mode, available through 4-wheel steering. This outrageous feature turns the back wheels up to 10 degrees so you can drive diagonally at low speeds, crab-walking the EV through narrow rock channels or forest paths.
Hummer EV Pickup Horsepower
The 2023 Hummer EV Pickup comes standard with a dual electric motor and available three-motor options in the EV3X and Edition 1 trims. The EV2 and EV2X Hummer editions offer up to 625 horsepower with an estimated 7,400 pound-feet of torque. Choose the EV3X trim for an estimated 800 horsepower with up to 9,500 pound-feet of torque. The zippy Edition 1 offers up to 1,000 horsepower and 11,500 pound-feet of torque. If you're deciding between a Hummer pickup trim and an SUV trim based on horsepower, you'll want to go with the pickup version.
GMC's Hummer EV Pickup also offers Watts to Freedom mode in Edition 1. This driver-controlled feature powers the Hummer into a burst of speed with an estimated forward thrust of 0-60 in 3 seconds for unparalleled acceleration in an electric vehicle.
Powered by the first-of-its-kind Ultium batteries, the new Hummer EV Pickup offers an impressive range of 350 miles or more. With 350 kilowatts of battery power behind the Hummer's motor, the EV is also equipped to recharge quickly. Get up to 800v with DC fast charging in public stations for a 100-mile charge in 10 minutes.
---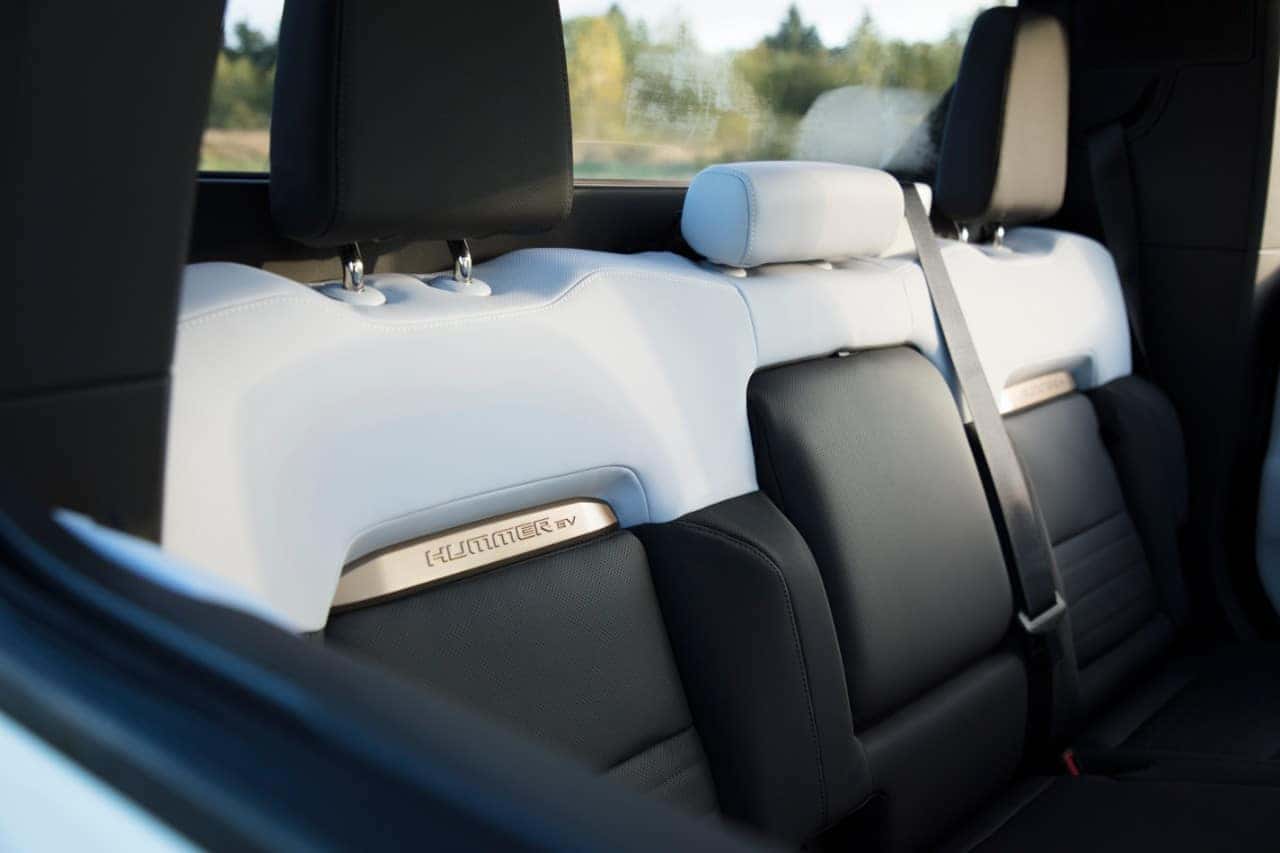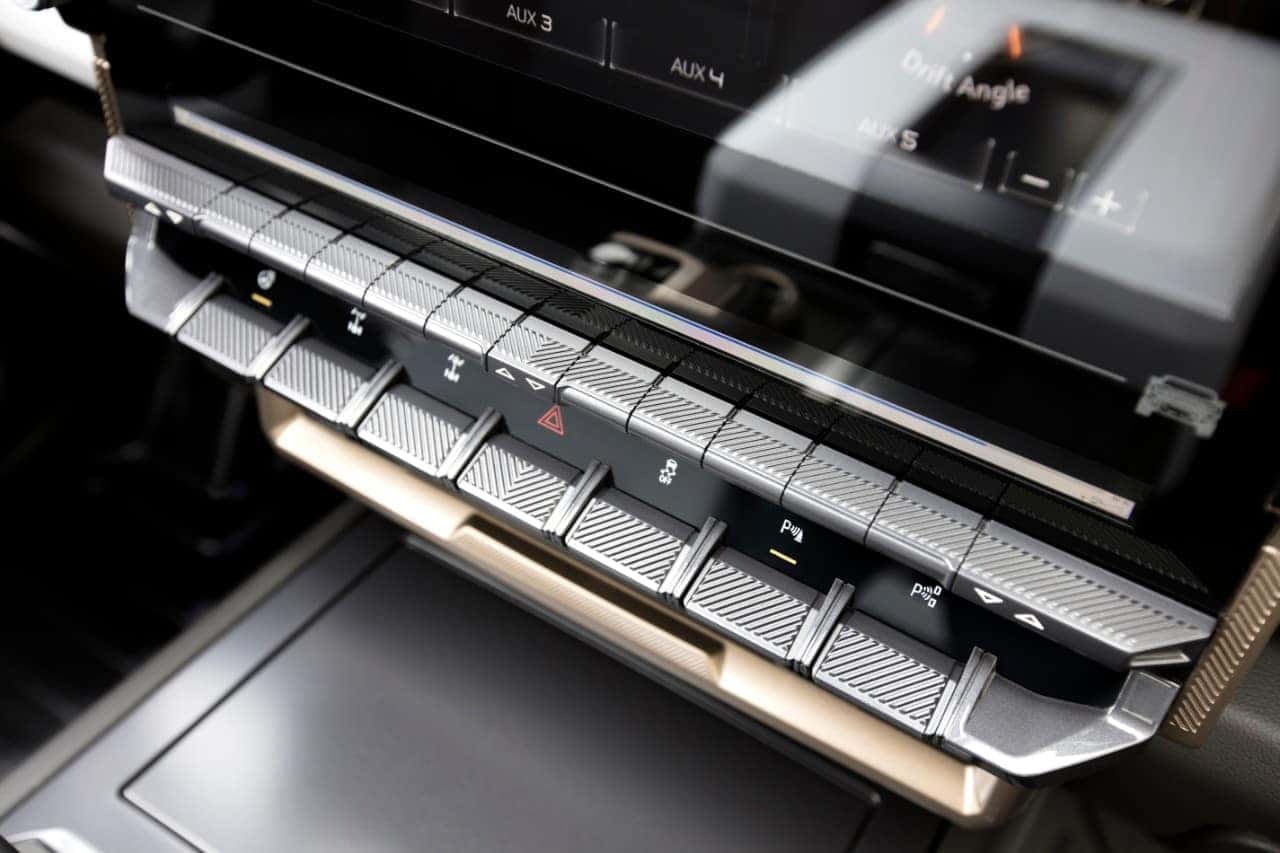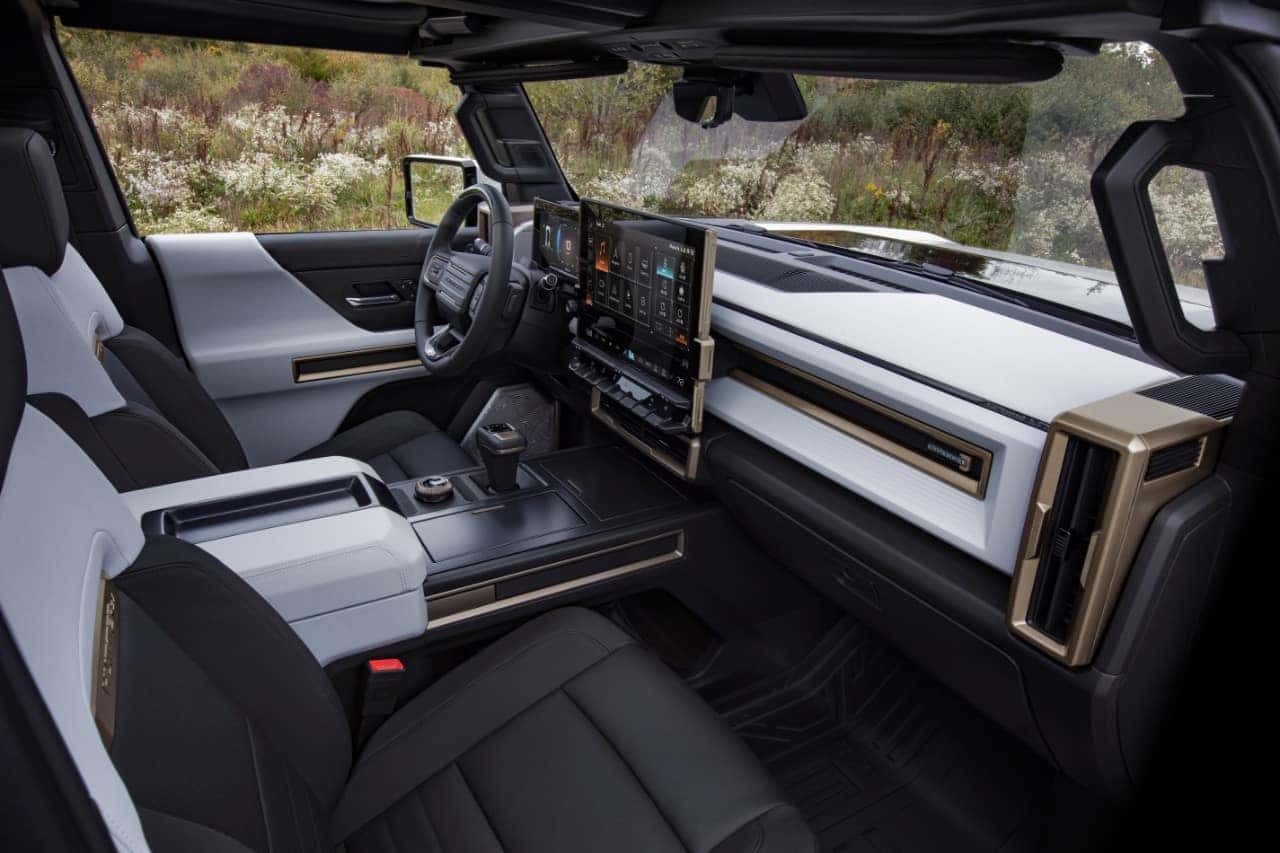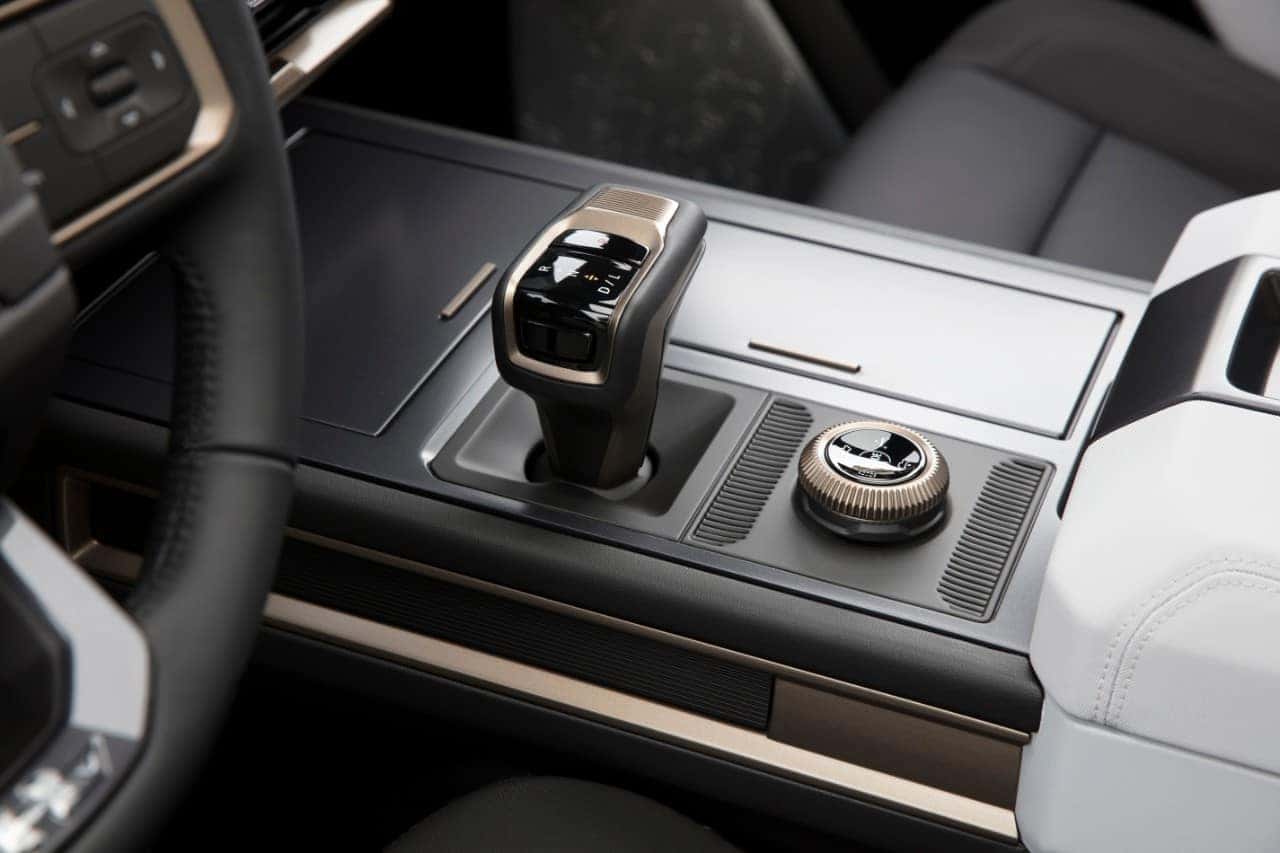 Interior
GMC's newly designed Hummer interior provides comfort with functionality for any road. With stylishly appointed leather upholstery packages and roomy seating for five, the Hummer EV Pickup gives drivers luxury with exhilarating drive features.
Choose between Lunar Shadow or Lunar Horizon interior trim. Lunar Shadow offers subtle black and taupe accents, while Lunar Horizon features stark black and gray contrasts on seats, consoles, and paneling. Both interior trims offer tech bronze accents and all-weather floor covers. A Bose 14-speaker audio system with Electric Vehicle Sound Enhancement designed just for Hummer EV cabins maximizes your driving experience.
Inside the Hummer EV Pickup's spacious cabin, a 12.3-inch diagonal color driver information display pairs with a 13.4-inch color touch-screen center display screen in high-definition for clear viewing while you drive. Customize your data and display settings on this easy-access panel to find range and battery updates, vehicle information, and infotainment.
---
Exterior Features
GMC's Hummer EV Pickup offers a design-forward exterior with modern off-road capabilities.
The new Hummer EV Pickup features a rugged style with unique front expressive lighting that changes as you approach, exit, or charge the vehicle. More exterior features include an upright windshield, uniquely styled tail lamps, and a low-turret roof profile.
Haul a payload of up to 1,300 pounds in the 5-foot cargo bed with a multi-pro tailgate in the new Hummer EV Pickup. The 2023 Hummer EV also offers up to 7,500 pounds of towing capacity resting on 35-inch Goodyear Wrangler Territory tires for more ground clearance.
Bring the outdoors to you with the Hummer EV Pickup's infinity roof with modular sky panels. Enjoy panoramic views through tinted windows that deflect the sun's glare but still give you sweeping vistas as you drive. With optional transparent removable glass panels and power rear drop glass, you can truly experience the open road.