Mini Golf and Adventure Parks: Youngstown, OH's Gems for Fun-Filled Escapades
Welcome to the vibrant city of Youngstown, OH, where exciting adventures and leisure activities await! Whether you're a couple looking for a romantic outing, friends seeking a thrilling challenge, or a family in search of wholesome fun, Youngstown has it all. In this guide, we'll explore the best mini golf courses and adventure parks in and around Youngstown, OH, offering you the perfect blend of excitement and relaxation. So, grab your putters and adventurous spirit as we embark on an unforgettable journey through the region's finest recreational spots.
Creekside Mini Golf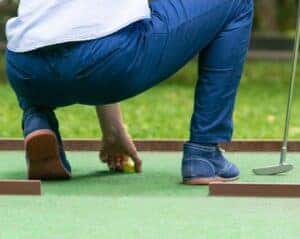 Address: 1300 N State St, Girard, OH 44420
If you're seeking a fun and adventurous outing, look no further than Creekside Mini Golf. Enjoy a game of mini-golf on their challenging yet entertaining course, where you can test your putting skills amidst beautifully landscaped surroundings. Voted "Best of the Best" in the valley, this is a great outdoor mini golf course that is perfect for the whole family. There is a Brewsters Real Ice Cream location on the premises so you can grab a delicious cone or shake to cool off on hot summer days.
Sports World Corp
Address: 8249 South Ave, Youngstown, OH 44512
Sports World Corp is a premier recreational facility that caters to families seeking an exciting day out. With a diverse range of activities including batting cages, a meticulously designed mini-golf course that strikes the perfect balance between challenge and amusement, and exhilarating go-kart rides tailored for speed enthusiasts, there's no shortage of thrills and enjoyment for everyone to indulge in. Embark on an unforgettable adventure at Sports World Corp and create lasting memories with your loved ones!
Putt-Putt Fun Center of Warren
Address: 3937 Youngstown Rd SE, Warren, OH 44484
Looking for some fun and adventure? Look no further than Putt-Putt Fun Center of Warren! This amazing place offers a wide range of exciting activities to keep you entertained. Dive into a thrilling game of mini-golf, where their challenging yet enjoyable course will put your skills to the test. And if you're into baseball, their state-of-the-art batting cages are perfect for honing your swing and improving your game. With so much to offer, Putt-Putt Fun Center is the ultimate destination for a day filled with laughter and excitement!
Parto's Mini Golf Course
Location: 2231 Coitsville-Hubbard Rd, Youngstown, OH 44505
Experience Parto's unique nine (9) hole miniature golf course, radiating an old-school charm with its lifelike putting surfaces that are perfect for both kids and adults. Parto's offers a 2-hour rental for just $150 in our newly built 3000 sq ft covered pavilion. For extra fun, Parto's offers parties with bounce houses and great food options.
Fun in Youngstown
If you're looking for some fun and adventure in Youngstown, OH, then these mini golf courses are definitely worth checking out! Each one offers something unique and special that will help you unwind after a long day at work or just enjoy some time with the family. Of course, Youngstown and the surrounding area has its fair share of traditional golf courses to check out.
Ready to embark on a thrilling journey through Youngstown's mini-golf and adventure paradises? Don't forget to visit Cochran Cars to discover the perfect vehicle to take you to these fantastic destinations. With our extensive selection of dependable and stylish cars, we aim to make your outing even more enjoyable and hassle-free. Get behind the wheel and let the fun begin!