GM Factory Zero: What You Should Know
As the auto world embraces electric vehicles (EVs) and manufacturers continue to plan for future EV models, GM is announcing an all-new, fully dedicated EV assembly plant known as Factory ZERO. Factory ZERO is GM's flagship vehicle assembly plant that will lead the way to an all-electric future. The "ZERO" part of the name speaks to GM's progressive vision of zero congestion, zero emissions, and zero crashes. Our Cochran Cars sales team invites you to learn more about this unique production plant as we explore GM Factory ZERO and the vehicles the automaker builds there.
Where Is GM's Factory ZERO?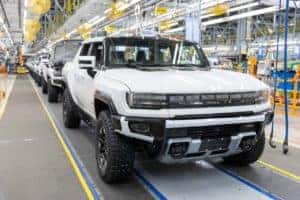 GM Factory ZERO, previously known as Detroit-Hamtramck, has manufactured over three million vehicles since opening its doors in 1985. This vehicle assembly plant straddles two cities — Detroit and Hamtramck, Michigan. The assembly plant has undergone a considerable transformation to become a state-of-the-art modern automotive assembly plant focusing on producing all-electric vehicles only. The first vehicles to come out of GM Factory ZERO include the GMC Sierra EV, Chevrolet Silverado EV, and GMC Hummer EV Pickup.
Sustainable Manufacturing
GM Factory ZERO plans to provide sustainable manufacturing by contributing to GM's commitment to using renewable energy at 100% of its facilities in the U.S. by 2030. GM Factory ZERO uses some of the most advanced tooling and technologies to accomplish this commitment. Renewable energy will fully power Factory ZERO, along with all southeast Michigan DTE Energy GM facilities, by 2023. The facility includes a DTE 516-kilowatt solar array and a 30-kilowatt solar-powered carport.
Factory ZERO is a certified wildlife habitat with formal native-plant gardens and pollinator grasslands that turkeys, foxes, and monarchs call home. The automaker repurposed all the concrete waste from the plant's transformation to make temporary roadways to reduce waste.
Advanced Manufacturing
The Internet of Things (IoT) is changing how manufacturing plants such as Factory ZERO function by allowing connected devices to deliver essential elements of safety and quality. From the automated guided vehicles that distribute materials across the assembly plant floor to the robotics and sensors, everything relies on the connectivity provided by the IoT. Factory ZERO is the first automotive plant in the U.S. to install Verizon's 5G Ultra-Wideband technology for increased speed, reliability, and sheer scale. Verizon's 5G technology allows for managing thousands of devices and provides the capacity to support the technologies across Factory ZERO.
Factory ZERO Plant Updates
GM continues to revolutionize the transportation industry through the transformation of Factory ZERO, which features the following updates:
A retooled and renovated general assembly area.
A brand-new automated storage building for GM Ultium battery assembly.
New contemporary tooling to upgrade the battery assembly.
The addition of enhanced tooling and modernization to the paint shop.
A refurbished and renewed body shop.
Factory ZERO breathes new life into the automotive industry and the Detroit-Hamtramck hometown plant.
Factory ZERO By the Numbers
With $2.7 billion invested in Factory ZERO, the plant in Detroit-Hamtramck employs 947 people for $35.2 million in taxable wages paid to the assembly employees. GM has donated more than $32.8 million to Detroit area non-profits since 2019, significantly impacting the local community. The assembly plant includes 4.51 million square feet on a 365-acre plot located at 2500 E. Grand Blvd. in Detroit. Employees are members of the UAW Local 22 Union to produce all-electric vehicles and assemble Ultium battery cells.
What Does GM Build at Factory ZERO?
Factory ZERO is a fully dedicated EV assembly plant that currently produces the GMC Hummer EV Pickup, with further plans to produce the GMC Hummer SUV2, Chevrolet Silverado EV, and GMC Sierra EV. Check out a few of the top features of each of these all-electric vehicles:
2022 GMC Hummer EV Pickup
The 2022 GMC Hummer EV Pickup debuted in just one trim, the Edition 1, and features 18-inch wheels with all-terrain tires, an adaptive air suspension, torque-vectoring four-wheel drive with front and rear differential locking capabilities, and the much-anticipated CrabWalk feature. You also get forward and underbody cameras, protective underbody skid plates, a configurable tailgate, and a trailer hitch with a trailer brake controller. Climb inside to enjoy the removable glass roof panels, heated and ventilated front seats, a power-adjustable and heated steering wheel, wireless charging, a 14-speaker sound system, and a 13.4-inch touch screen with Apple CarPlay and Android Auto.
2024 GMC Hummer EV SUV
You can purchase the 2024 GMC Hummer EV SUV in four trims: EV2, EV2X, EV3X, and Edition 1. This beast features roof cross rails, the Infinity roof, off-road pod lights mounted on the front pillars, a 50-inch front-facing light bar, and D-Ring recovery hooks. You also get an adjustable air suspension with Extract mode for 6 more inches of clearance and four-wheel steering with the CrabWalk feature. The Extreme Off-Road package gets you low-mounted cameras, extra underbody protection, a locking front differential, rear motors that act like a locking rear differential, enhanced axles, and 18-inch wheels with all-terrain tires.
2024 Chevrolet Silverado EV
The 2024 Chevrolet Silverado EV will be available in six trims: the WT (Work Truck), LT, LTZ, Trail Boss, High Country, and RST. Exterior features include the crew cab body style with a 5.9-foot bed and an available Multi-Flex Midgate that lets you expand your bed length to 11 feet with the tailgate down or 9 feet with it up. Chevrolet plans to release the RST trim first, with the WT and other trims set to drop later in 2024.
2024 GMC Sierra EV
GMC will initially offer one trim level for the 2024 Sierra EV, a Denali Edition 1 with the Multi-Pro Midgate, which lets you expand the 5.9-foot truck bed to 10-foot-10-inches. You also get the CrabWalk function for better off-road performance on the Sierra EV. In 2025, GMC plans to release the AT4 and Elevation trims, offering more options to today's drivers.
Contact our Cochran Cars sales team if you'd like to learn more about the future of EVs, including information about the GM Factory ZERO assembly plant. Call us at 844-417-7332 or complete our secure online form to get started. We'd be happy to answer any questions, give you a tour of our showroom, or set up a test drive in one of our electric options, such as the 2023 Chevrolet Bolt EV or the 2024 Chevrolet Blazer EV. Check us out at 8010 Market St. or 7997 Market St. in Youngstown, Ohio.